Who We Are

With a penchant for excellence in translation works, Winsome Translators has emerged as a well established translation company in the field of Language translation, interpretation, localization, IT and related services. Our team of highly qualified professional translators and interpreters (from reputed universities of India and abroad) has years of experience in the said areas. We are well known as a service provider for providing affordable and high quality document translation services & document interpretation services in Delhi over the years.

Few of our offering services are administrative translation, commercial translation, document translation, economic translation, financial translation, simultaneous interpretation, consecutive interpretation, personal interpreter services, software development, multimedia, multilingual localisation, multi lingual desktop publishing, multilingual brochure designing etc.

Our forte is to communicate the same message in another language. While performing this task, we keep several factors in mind such as the grammar rules of the two languages, context, writing conventions and idioms. We also provide sign language or oral communication as per the clients needs.

Beside being professional linguists, our in-house team of proficient translators is also versed in varied disciplines including Computer Science, Electrical Engineering, Finance, Information Technology, Law, Literature, Medicine, Patent, Physics, Telecommunication, etc.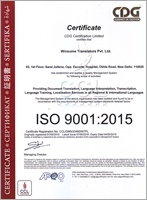 Read More