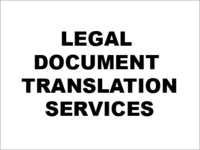 Legal Document Translation Services
Service Description
Legal Document Translation Services

Since our establishment at New Delhi, India, we have been known as a reliable entity, engrossed in rendering Legal Document Translation Services. We ensure to provide utmost satisfaction to clients by translating birth certificates, divorce decrees, annual reports, university diplomas and various kinds of legal documents in their local language. Also, our diligent professionals keenly analyze the documentations for prevention of any kind of flaw in the translated text. Moreover, our patrons can avail these Legal Document Translation Services at affordable charges.
Key points:
Work in adherence with native norms and laws
Provide verbatim translation in simple format
Timely completion of tasks

Key Features

Our Legal Document Translation Services are very swift and can translate the provided data in a very small time.
Accuracy, Consistency, creativity, etc are the tools our translators know well how to use them during the translations.
We have expert linguistics as they provide rich vocabulary in every type of regional languages without any errors.
Documents like annual reports, resumes, diplomas, certificates, etc can be flawlessly translated by using our translating services.
The provided scripts can be translated in any mother-tongue or foreign languages providing us an access to multilingual translation.
The interpreted context is enriched with core values of the translated language so that it becomes easy to grasp the language.
Our experts being prolific, they complete the interpretation process is a quick time without any involvement of mistakes.
Not a single word is left out during the translation that ensures the translated documents to be as defining as the original one.
Once the provided documents are translated in a particular language, no type of rephrasing or omitting is to be done.
First the documents are carefully understood by our team of translators and then the translation is done with great accuracy.
Other Details:

Winsome Translators Pvt. Ltd. has a competent team, which cleverly handles all the challenges of legal documentation services and legal document translation services. The linguists and translators are capable of translating content in almost all Indian and foreign languages. The translated legal matter can be authenticated by an official notary, if required by any authority or governmental body. In many cases, the translation of document is executed by professional mother-tongue translators. They after translating the documents,carefully review the same and ensure their privacy and security. The documents that can be translated include:
Annual Reports
Resumes
Divorce Decrees
Birth Certificates
Marriage Certificates
High School Diplomas
College Diplomas
Institute Diplomas
University Diplomas
Profession Certifications
Employment Forms
Personal Correspondence
Legal Court Documents, etc.
Winsome Translators
Contact Us
No. 93, 1st Floor, Sarai Jullena, Opp. Escorts Hospital, Okhla Road, New Delhi, Delhi, 110025, India
Phone :+918068341614